Today's business environment is evolving rapidly, making marketing more important than ever.  Especially since 2020, which paved the path for new and innovative strategies for connecting people.
Given that there are a multitude of tools, platforms, and methods at your disposal, connecting with your target audience seems simpler than ever. But with so many opportunities there comes a unique set of difficulties.
We've put together a list of the top global marketing challenges to review and the solutions that can help.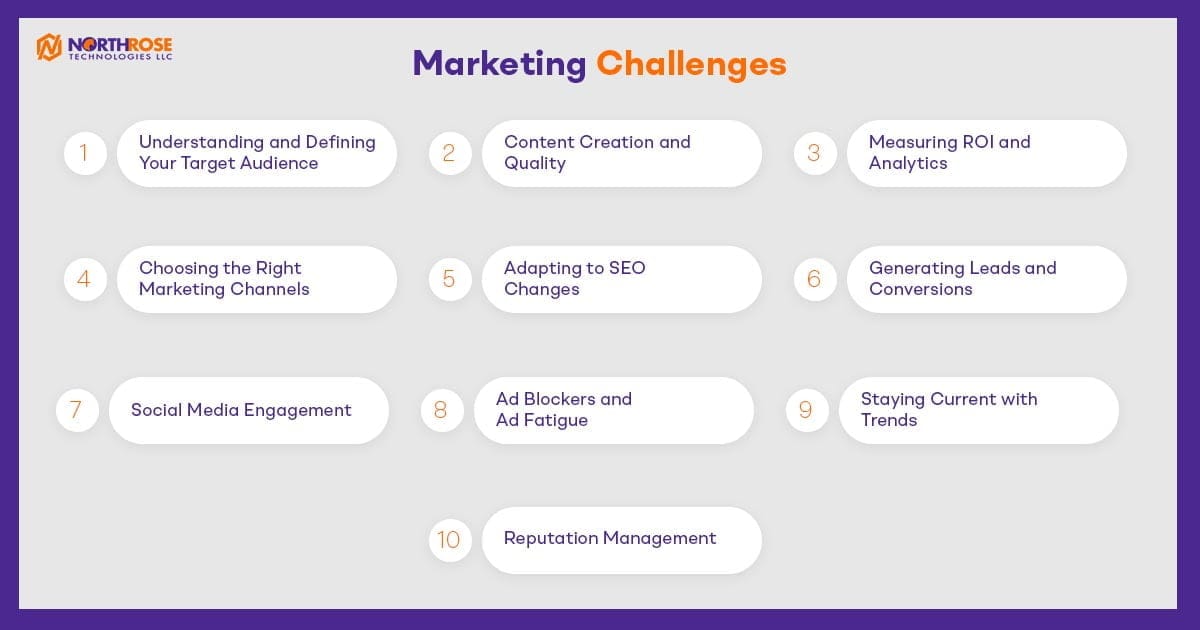 1) Understanding and Defining Your Target Audience
Knowing your target demographic well is one of the core challenges to marketing. Marketing efforts that speak to the right audience are essential, but identifying who those people are can be tricky.
You can start by making thorough buyer personas first. These are made-up depictions of your ideal clients that include behavioral, psychographic, and demographic data.
Examine the internet habits, trouble areas, and preferences of your target audience. Utilize this data to customize your content and messaging to their unique requirements and interests.
2) Content Creation and Quality
For marketers, producing consistently great, interesting content is an ever-present challenge. Building a successful brand requires upholding a high standard, which might take time.
In order to combat this, invest in a content strategy that uses a variety of content formats, including podcasts, infographics, videos, and blog articles.
Put quality before quantity, and if you don't have the necessary resources, think about outsourcing some of the content. It is also important to have a regular publishing schedule and make sure that the content is relevant to your audience.
3) Measuring ROI and Analytics
It can be difficult to calculate the return on investment (ROI) of marketing initiatives. It is imperative for marketers to demonstrate the worth of their initiatives, which calls for a thorough comprehension of analytics tools and data.
To monitor the effectiveness of your efforts, make use of marketing automation tools, social media insights, and analytics systems like Google Analytics.
For every campaign, establish quantifiable objectives, and evaluate its results on a regular basis by looking at the data. Pay attention to KPIs such as lead generation, conversion rates, and client acquisition expenses that are directly related to your business objectives.
4) Choosing the Right Marketing Channels
With an abundance of marketing platforms available, it can make things more complex. Ranging from email to social media, there is a plethora of platforms that one can reach out from.
Choosing the right channels is important to successfully reaching your target audience. You need to be on the platforms where your target audience is more likely to be.
To determine which platforms your audience uses most frequently, do a detailed analysis of their behavior. Focus your attention on those avenues specifically. Try out several platforms as well to find which ones work best for your particular business.
Remember that the most effective channels could change over time, so the key is to be flexible and adaptable to new developments.
5) Adapting to SEO Changes
Though it's always modifying, search engine optimization is an essential part of digital marketing. Google updates its algorithms frequently which can have an effect on the visibility and ranking of your website.
Stay updated on the most recent changes to algorithms and trends in SEO. To assist you in navigating these changes, think about hiring an SEO specialist or investing in regular SEO training.
Make sure your website is functioning properly on a technical level and concentrate on producing excellent, pertinent content that benefits your readers. You can withstand algorithm updates with the support of reliable, long-term SEO methods.
7) Generating Leads and Conversions
One of the most frequent marketing challenges that seem to go around is turning website visits into leads and leads into consumers. Without a consistent flow of quality leads, it can be difficult for your business to expand.
Invest in lead generation techniques such as email marketing, social media advertising, and content marketing. Create engaging lead magnets to persuade visitors to provide their contact information, such as webinars and special discounts.
To increase conversion rates, continuously make improvements to your landing pages, call to action, and contact forms. Leads should be nurtured and guided through the sales funnel using marketing automation solutions.
8) Social Media Engagement
Social media is the go-to for most businesses. In fact, social media can help businesses grow significantly and has proven to be extremely effective. However, as useful a tool as social media can be, it can be quite challenging to properly engage your audience and cut through the clutter of existing businesses.
The first step to take on this challenge is to create a social media plan that supports your business's goals. Post relevant material on a regular basis, interact with your audience, and reply to messages and comments right away.
Experiment with various content formats, such as live streaming, stories, and videos to see which works best for you. To reach a wider audience and target particular demographics, use social media advertising. You can also examine social media data to gradually improve your approach.
9) Ad Blockers and Ad Fatigue
Ad fatigue and ad blockers can significantly decrease the efficacy of your online marketing campaigns.
Put your energy into content marketing and native advertising to counter ad blockers. Develop engaging, educational, and non-intrusive advertisements that benefit your target audience. To avoid ad fatigue and maintain viewer interest, rotate your ad creatives often.
You can also increase the likelihood that a viewer will pay attention to your adverts by personalizing them to make them more relevant to them.
10) Staying Current with Trends
The marketing landscape is continuously changing, with new trends, techniques, and technology constantly emerging. This can make it difficult to stay current.
Make time for continuous learning of top marketing trends. Subscribe to marketing newsletters, read industry blogs, attend webinars, and interact with marketing communities on social media.
Encourage your employees to take advantage of training and education opportunities. Experiment with new technology and trends to explore how it can help your business with a clear strategy in mind.
11) Reputation Management
Negative reviews and concerns with your online reputation can harm your brand's image, making it difficult to attract and keep customers.
Keep a close eye on online reviews and comments regarding your brand. While they can be disheartening, it is important to respond to negative remarks swiftly and professionally, with the goal of resolving consumer issues.
Encourage satisfied customers to post positive reviews to balance out negative feedback. Adopt a proactive online reputation management plan that prioritizes transparency, responsibility, and client satisfaction.
The marketing landscape is complex and constantly changing, posing several challenges to firms of all kinds. However, it is not impossible to overcome these obstacles. With custom strategies at your disposal, North Rose Technologies helps you establish a robust and effective marketing plan that drives long-term success.